Events
DEAL is constantly moving.
Discover our latest activities in our social channels.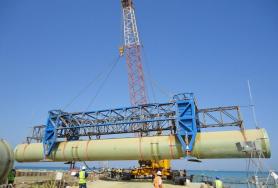 El Ain El Sokhna, Egypt Innovative solutions for underwater pipe laying in the construction of Supercritical Thermal Power Plant. The new El Ain Sokhna Supercritical Thermal Power Plant, located 50km South of Suez City, consists of 2x650 MW steam power plant for strengthening and interconnection of the Egyptian Power System. Cooling waters for the plant are sucked by 3 off-shore parallel pipe lines of 3m nominal diameter offshore intake GRP pipes stretching over a kilometre into the Red Sea. These have an approximate length of 1,200m and are designed for a flow rate of about 17 m3/sec. The intake pipes are located both onshore and offshore: those below the sea bottom are positioned on a trench, surrounded by a granular backfill, a filter layer and covered by a rip-rap layer. The SeaHorse was designed for a precise installation and accommodation of the offshore GRP pipe lines of length and dimeter of 36m and 3m respectively; the equipment drastically reduces underwater pipe laying and installation activities that would otherwise be carried out with crawler cranes positioned on barges, guided by a crew of divers working in a very low visibility environment. The apparatus mainly consists of a steel frame supporting the 36m long pipe that can be positioned with particular precision inside the previously excavated trench. A system of hydraulic jacks, managed by a control station on barge and hydraulically powered by an umbilical pipe on reel, allows the very accurate positioning and the connection with previously laid sections.
April 11, 2019
see post